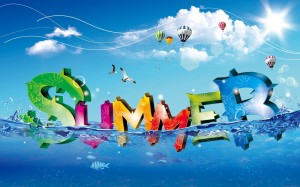 Your employees are requesting vacation days almost every month this quarter, and now asking about summer Fridays? That's right, we are in the heat of the summer season and for some it can seem like the business world takes a backseat between Memorial and Labor Day.
But, if you plan accordingly and ensure that your employees are fulfilled and working strategically during their time in the office, then you can avoid any sort of three month slump. Here are a few ideas for making summer in the office a breeze.
Stay on track with hours. If your team knows exactly what is on their plate and can make up time before or after 9-5 or on the weekends, then be a pinch more flexible with letting them leave a few hours early on a Friday to beat the traffic on the way to the beach. Of course, just as long as the work is completed in time for deadlines and they know that their hours and requirements won't slow down during these longer summer days.
Use it to your advantage with clients. Take clients and partners out on the golf course, meet them for lunch at a restaurant with an outdoor patio or, if you have kids around the same age, set up a pool date with you and the youngsters. Use the social aspect of the season and the extra excuses to be outside to get more face time with clients, or prospective new clients, in a light, easygoing atmosphere.
Encourage employee engagement time. Plan a company retreat or volunteer to cover the team's entry fee to join a summer volleyball league. Let your team know they are valued. Plus, encouraging out-of-office interaction can further strengthen their in-office working relationships and collaboration.
Plan a vacation or two for yourself. Whether it's just a weekend at the lake or mountains, or even a staycation at a local pool, be sure and take a few days off for yourself. Having time to relax and even enjoy the luxuriousness of boredom makes for a much more productive, fulfilled and rewarding career.
read more